Every Friday and Sunday
06.05. – 16.10.2022

The destination of the trip is the picturesque Dürnstein with the blue church tower, over which the historical ruin Dürnstein towers. The former castle served as the prison of the English King Richard the Lionheart.
Already at the beginning of the ride you will drive along the skyline of Vienna, further past the Kahlenberg and the monastery Klosterneuburg. After a stop in the garden city of Tulln we drive to Dürnstein. The 2 hour break at the destination provides time to walk around and explore.
Culinary excursion Tulln & Dürnstein | PROGRAM DOWNLOAD
11:20 am to Tulln
(If you get off in Tulln: 7,5 hours stay, time at your own disposal)
14:30 hrs at Dürnstein
(2 hours stay in Dürnstein, time at your own disposal)
16:40 from Dürnstein
19:00 hrs to / from Tulln
Vienna-Dürnstein-Vienna (there and back)
Incl. Boat trip, breakfast plate, antipasti plate, strudel, evening buffet
€ 65,00 per person
Vienna-Tulln-Vienna (there and back)
Incl. Boat trip, breakfast plate, evening buffet
€ 49,00 per person
Tulln-Dürnstein-Tulln (there and back)
Incl. Boat trip, anitpasti plate, strudel
€ 49,00 per person
08:30 Breakfast plate served: bread roll, ham / salami, cheese, butter, jam, filter coffee / tea.
12:30 Antipasti plate served: Variation of different types of ham, salami and cheese, spread, vegetables, homemade bread.
16:40 Apple and curd strudel served with vanilla sauce
19:00 Evening buffet
Salad bar
Viennese potato salad
Cream and cucumber salad
Tomato salad with balsamic vinegar
Main courses
Fried chicken strips
Roast pork with bacon and bread dumplings
Beef cheeks cooked sous vide with roast jus
Veal goulash with dumplings
Vegetarian spinach feta cheese lasagna
Side dishes
Buttered dumplings
Potato gratin
Grilled vegetables
Dessert variation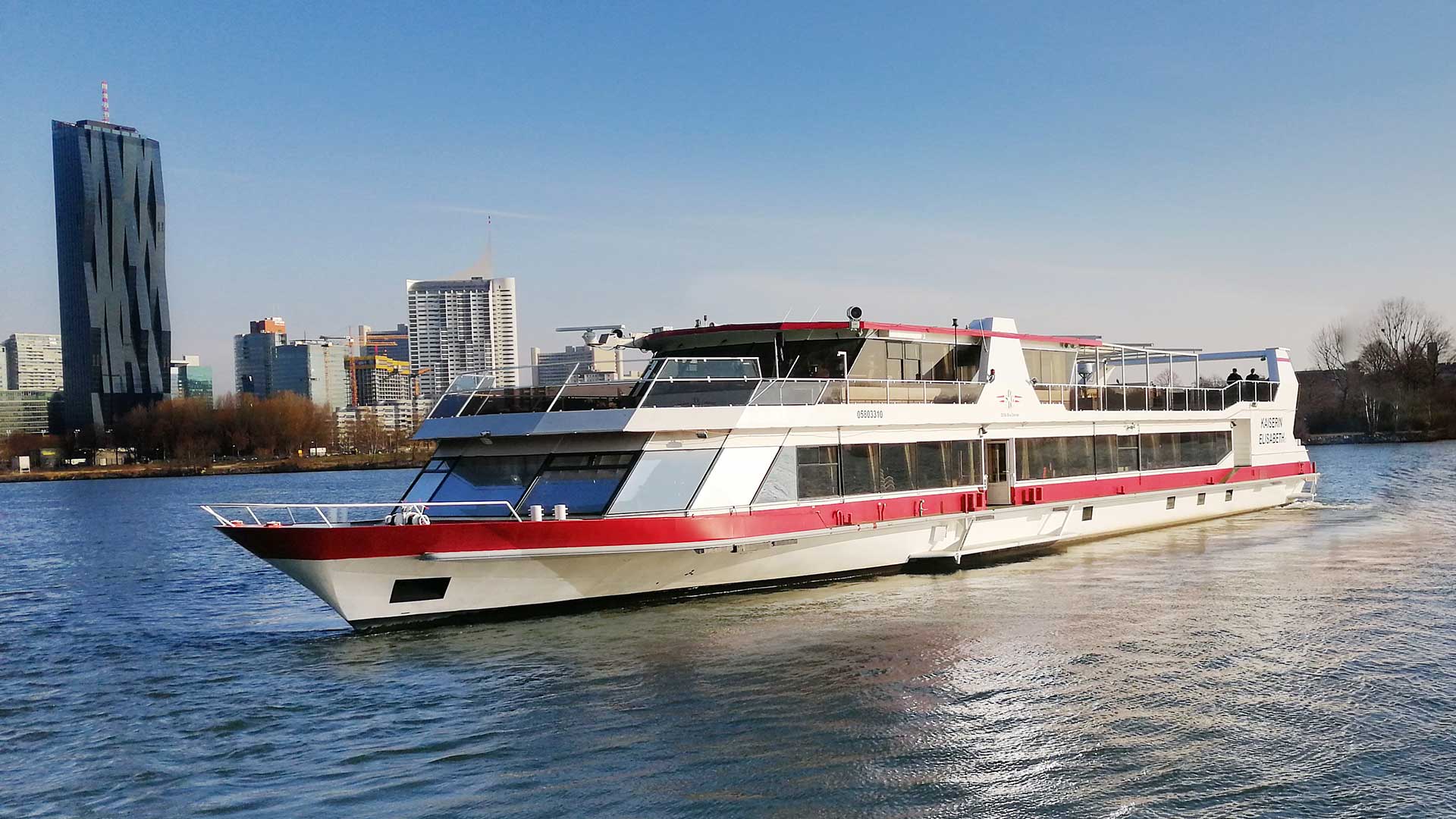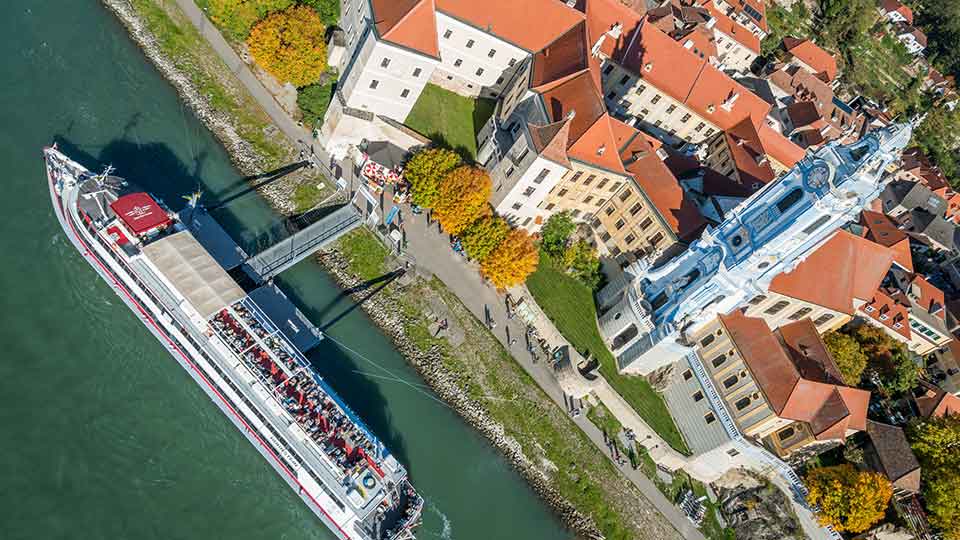 TIPS FOR YOUR STAY
STAY IN TULLN
Tulln city tours
Experience interesting, exciting and undiscovered things on a guided tour to the most important cultural highlights of the Garden City Tulln
more information
Garden Tulln
The "Nature in the Garden" – world of experience with 70 show gardens, treetop path, nature playground.
www.diegartentulln.at | April-October, open daily, 9 a.m.-6 p.m. | From the pier about 20 minutes walk / 1 km via water park walkway through the Au.
Slow train Tulln
Strolling train with 54 seats through Tulln past the sights.
May-September: Sat, Sun, holiday, 2-6 p.m. | boarding directly at the pier | www.tulln.at/erleben
STAY IN DÜRNSTEIN
Ruin Dürnstein
Free access all year round. From the city center to the romantic castle about 20 minutes walk.
www.duernstein.at
Dürnstein Monastery
Dürnstein Abbey is a Baroque jewel (1710-1740).
Exhibition open daily, Mon-Sat: 9am-6pm, Sun: 10am-6pm. € 7,50 adult
Recommended visit time 1 hour.
Audio guide (worth € 2.50) FREE with your DDSG ticket.
www.stift-duernstein.at