Every Friday,
05.05. – 22.09.2023
Every Sunday,
02.04. – 29.10.2023
The destination of the trip is the picturesque Dürnstein with the blue church tower, over which the historical ruin Dürnstein is enthroned. The former castle served as the prison of the English King Richard the Lionheart.
Already at the beginning of the ride you will drive along the skyline of Vienna, further passing the Kahlenberg and the monastery Klosterneuburg. After the garden city of Tulln we discover Dürnstein. The 2 hour break at the destination provides time to walk around and explore the village.
14:30 arrival Dürnstein
(2 hours stay in Dürnstein, time at your own disposal)
Vienna-Dürnstein-Vienna (round trip)
Incl. Boat trip, breakfast, lunch snack, strudel, dinner buffet
€ 79.00 per person
08:30 | BREAKFAST (CONTINENTAL)
roll🌱, ham / salami, cheese 🌱, butter, jam 🌱, mini pastry 🌱,
Filter coffee / tea
12:30 | LUNCH SNACK – SERVED
Small veal goulash with jour pastry
16:40 | STRUDEL – SERVED
Apple and curd cheese strudel with vanilla sauce 🌱
19:00 | EVENING BUFFET
Salad bar
Viennese potato salad🌱
Cream cucumber salad🌱
Corn yogurt salad 🌱
Pearl wheat salad with vegetables🌱

Main courses

Chicken Stroganoff
Beef cheeks in pearl onion red wine sauce
Baked chicken strips
Roast pork with bacon and bread dumplings
Spinach Feta Cheese Lasagna🌱

Side dishes
Rice🌱
Grilled vegetables🌱
Parsley potatoes🌱
Buttered dumplings🌱

Desserts
Dessert variation

🌱 = Vegetarian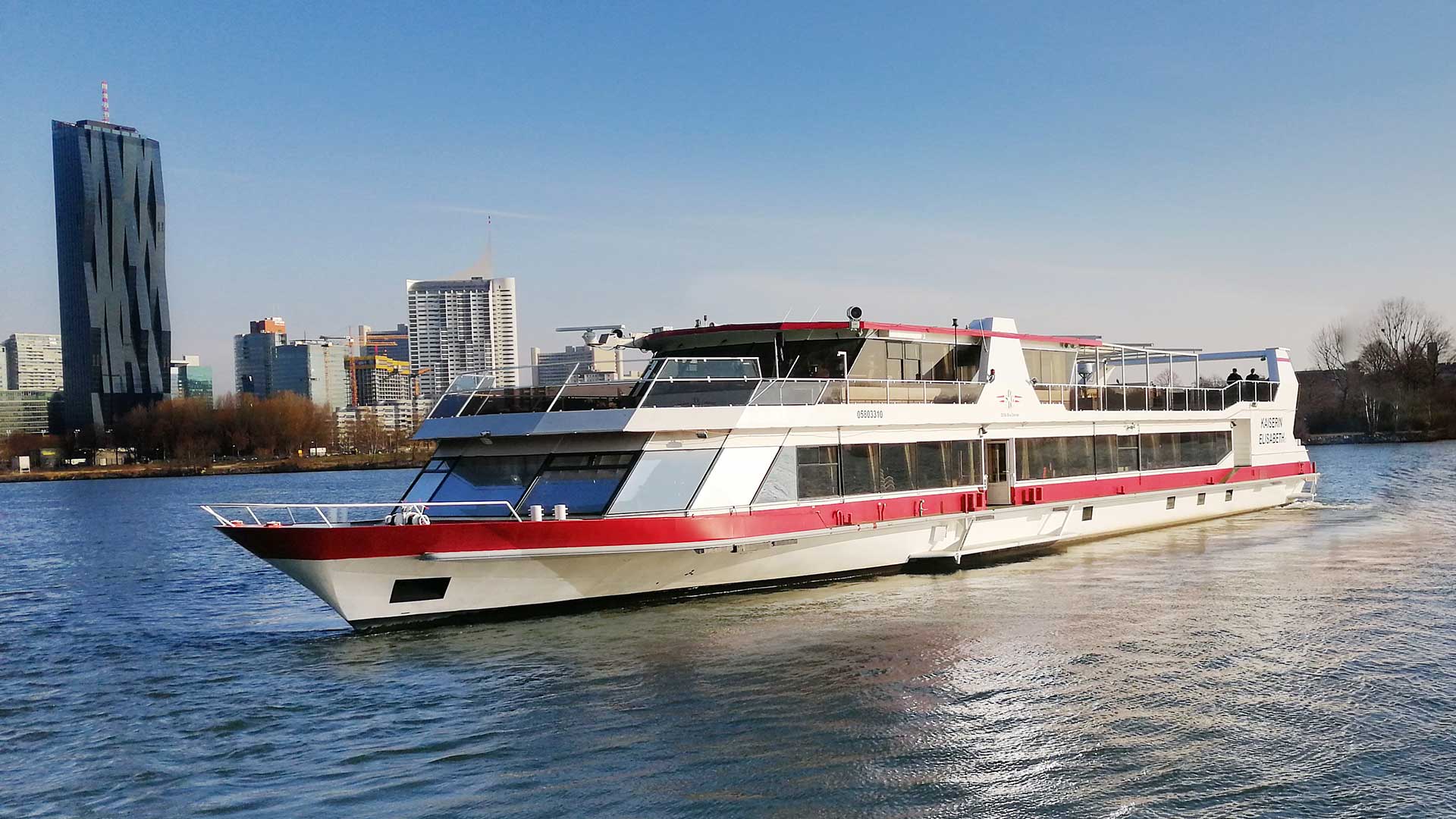 ON-BOARD CATERING
JP DONAU CATERING GASTRONOMIE
Let yourself be tempted by the gastronomic offer of the
JP Danube Catering Gastronomie.
You can reach the on-board catering for questions
about the gastronomic service at:
info@donaucatering.at | 0660 444 644 5 | www.donaucatering.at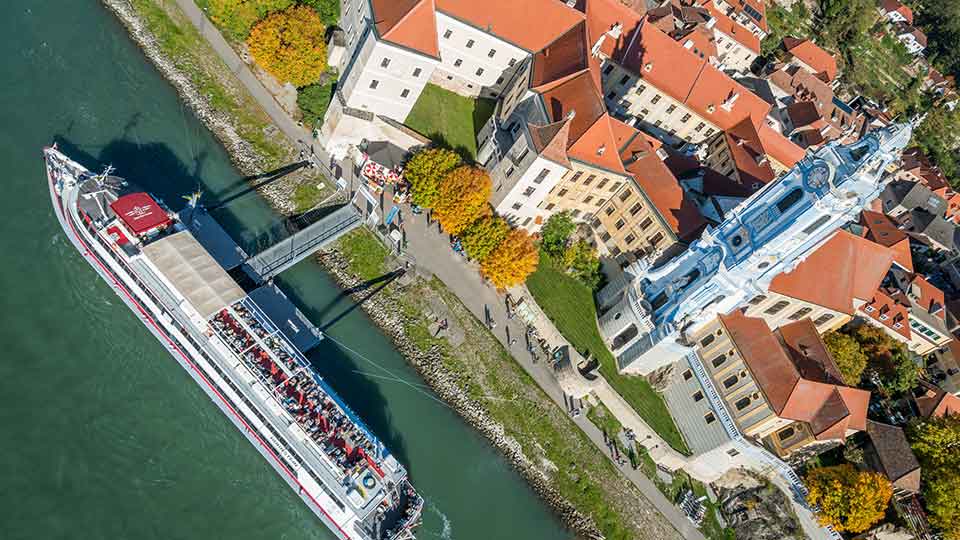 TIPS FOR YOUR STAY IN DÜRNSTEIN
Ruin Dürnstein
Free access all year round. From the city center to the romantic castle about 20 minutes walk.
www.duernstein.at
Dürnstein Monastery
One of the most famous sights of Wachau valley offers the new exhibition "Entdeckung des Wertvollen" which is opened daily from 1. April to 29. October, Mon-Sat: 9:00-17:00, Sun: 10:00-17:00. You can see the gothic hall, the gorgeous danube terrace and the baroque monastery church. Audio Guide (worth € 2,50) FREE with your DDSG-Ticket.
You will find more information about the Dürnstein monastery here.