Every Saturday
07.05. – 15.10.2022

Every Saturday to the neighboring capital with the stylish MS Kaiserin Elisabeth.
The castle, the Old Town Hall and the Michael Gate are just a few of the sights that can be explored in the Slovak capital, along with the old town of Bratislava.
The four-hour stay in Bratislava offers enough time for sightseeing and a long walk. The outside deck with the 360 ° all-round view and the lounge chairs in the bow area invite you to relax and watch. But also the bright interior with mirrored ceiling and full air-conditioning opens the guests cozy and maritime flair on both decks.
Two bars as well as a varied gastronomic offer provide variety and round off the great program on the newest member of the DDSG Blue Danube fleet. The combination price includes a breakfast plate, antipasti plate, strudel and a final evening buffet.
Culinary excursion to Bratislava | PROGRAM DOWNLOAD
! Reservation required !

!
Valid travel document required !
Entry requirements Slovakia:
https://www.bmeia.gv.at/reise-services/reiseinformation/land/slowakei/
In Bratislava, the MS Empress Elisabeth is scheduled to dock at"HUMA 4". As this pier is not barrier-free, there may be changes at short notice and "HUMA 2" or "HUMA 8" may be approached.
Please inform yourself on the following website about your pier at short notice especially if you have booked only the trip from Bratislava to Vienna!
4 hours stay in Bratislava, time at leisure. Possibility to book an excursion directly on the ship.
Vienna-Bratislava-Vienna (round trip)
Incl. Boat trip, breakfast plate, antipasti plate, strudel, evening buffet
€ 65,00 per person
Vienna-Bratislava (one way)
Incl. Boat trip, breakfast plate, antipasti plate
€ 45,00 per person
Bratislava-Vienna (one way)
Incl. Boat trip, strudel, evening buffet
€ 45,00 per person
09:00 Breakfast plate served
bread roll, ham/salami, cheese, butter, jam, filter coffee/tea
11:00 Antipasti plate served
Variation of different kinds of ham, salami and cheese, spread, vegetables, homemade bread
16:00 Strudel served
Apple and curd strudel with vanilla sauce
18:30 Evening buffet

Salad bar
Viennese potato salad
Cream and cucumber salad
Tomato salad with balsamic vinegar
Main courses
Fried chicken strips
Roast pork with bacon and bread dumplings
Beef cheeks cooked sous vide with roast jus
Veal goulash with dumplings
Vegetarian spinach feta cheese lasagna
Side dishes
Buttered dumplings
Potato gratin
Grilled vegetables
Dessert variation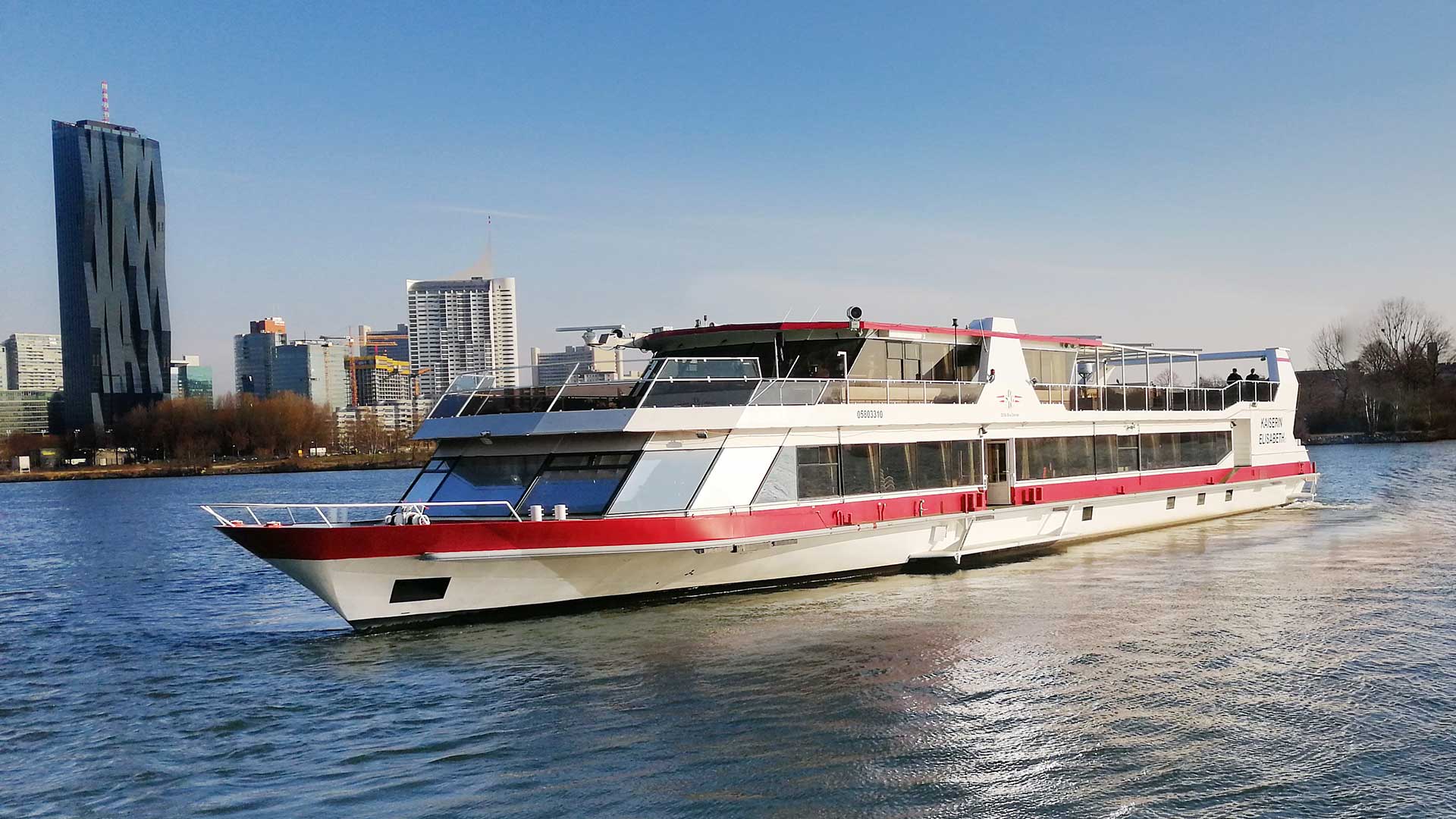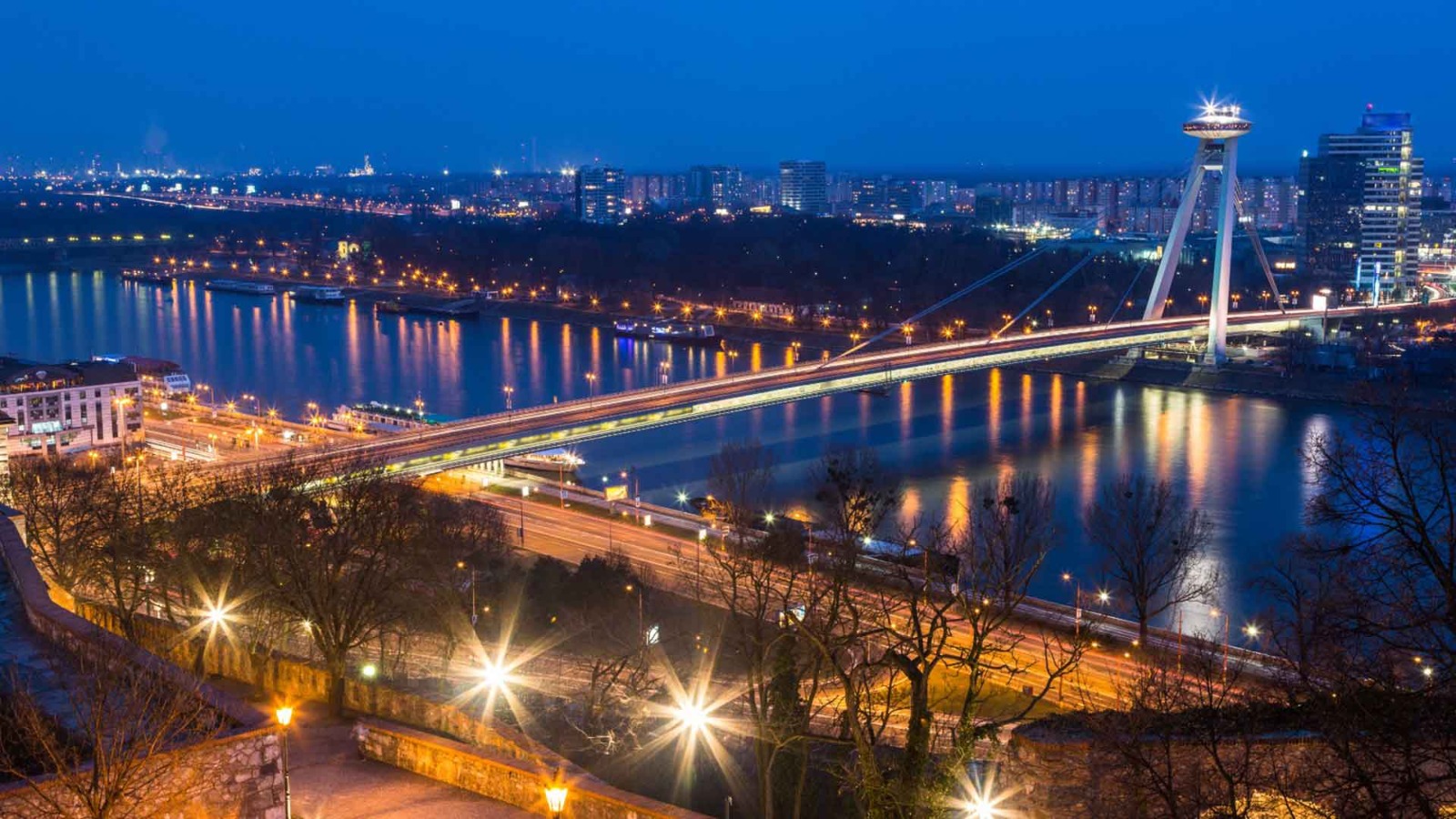 TIPS FOR YOUR STAY
Booking directly on the ship:
Guided city tour with Bratislava croissant tasting
Duration: about 1 hour
Adults: € 8,00
Children (3-12 years): € 5,00
Guided bus tour to the castle
Duration: about 1 hour
Adults: € 10,00
Children (3-12 years): € 6,00