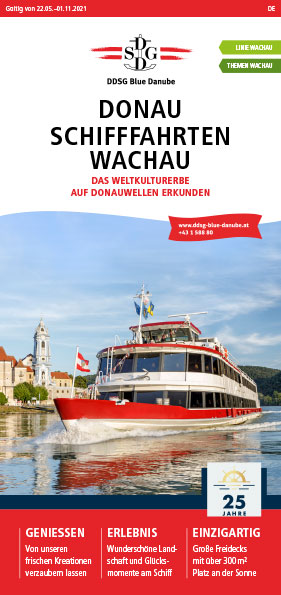 TIMETABLE WACHAU 2021 – LINES & THEME DRIVES
The two modern and fully air-conditioned ships MS Dürnstein and MS Wachau start from Krems and Melk up to 3 times a day in each direction for leisurely boat trips through the UNESCO World Heritage Site . Enjoy the ride on one of our spacious sundecks through the Wachau and experience enjoyable hours on board.
[wpdm_package id="241601″]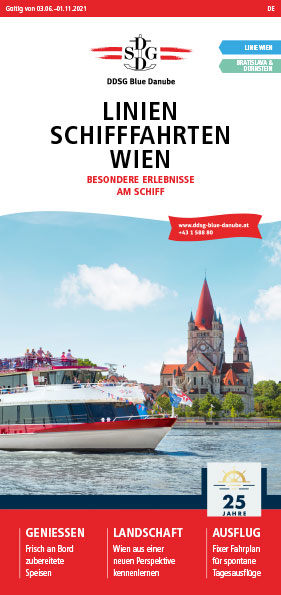 TIMETABLE VIENNA 2021 – LINE TRIPS
Moments of happiness on the ship … under this motto, the red and white DDSG fleet, consisting of seven modern ships, sets off for countless boat trips during the day and in the evening. Whether a leisurely boat trip through the UNESCO World Heritage Site Wachau, a sightseeing cruise on the Vienna Danube Canal or an evening cruise with lots of entertainment and culinary delicacies: On board our fleet, relaxation, recreation and adventure are the focus. The friendly crew has made it their business to give you unforgettable hours on the water.
[wpdm_package id="241712″]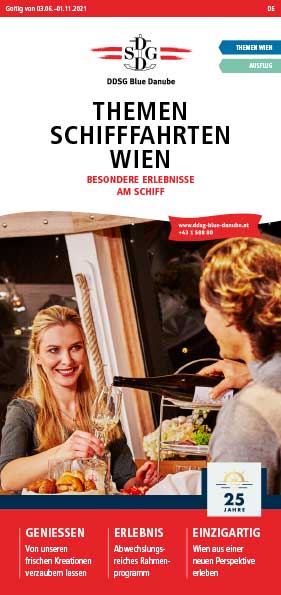 TIMETABLE VIENNA 2021 – THEME DRIVES
Experience special experiences on board! With our themed cruises you go on a "little cruise" and escape from everyday life. Let the romantically illuminated banks pass by and enjoy the excellent service of our on-board catering. Varied menus and themed buffets – always freshly prepared on board – ensure culinary highlights. Come on board our "dream ships" and let your mind wander.
[wpdm_package id="241808″]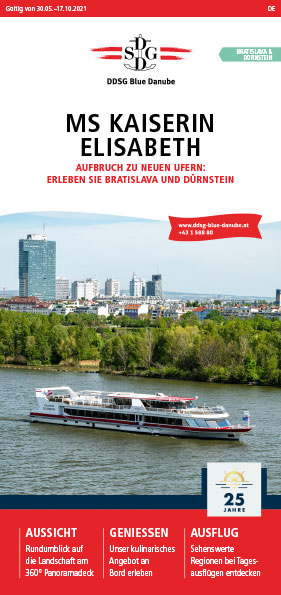 TIMETABLE MS KAISERIN ELISABETH 2021
BRATISLAVA & DÜRNSTEIN
The very first sight of the MS Kaiserin Elisabeth conveys its elegance and uniqueness. From the spacious and fully accessible Panorama deck you can enjoy the passing landscape up close, either while strolling or while lingering in the cozy Deck chairs . The bright interior, which extends over two decks, with mirrored ceiling and Full air conditioning , opens up a cozy and maritime flair to the guests. Two bars as well as a diverse gastronomic offer offer variety and round off the great program on the newest member of the DDSG fleet.
[wpdm_package id="241614″]